Brooklyn Nine-Nine has always come out with some pure gems in terms of comedy. The show first released in 2013 and after a brief cancellation scare after season four, everything has only looked up. The show played by iconic actors Andy Samberg, Melissa Fumero, Terry Crews, Stephanie Beatrice, Joe Lo Truglio and Andre Braugher, remains one of the best comedy TV shows in the entire industry, all the while tackling serious issues, political and otherwise. We are here today, to break these shows down to the top nine, though we are sure it's going to be extremely difficult.
Season Two, Episode 23: "Johnny and Dora"
It goes without being said that the best love story in the show and maybe even across all TV shows is that of Amy Santiago and Jake Peralta. With their sweet, functional relationship being an ideal for love nowadays, its fun to go back to this episode and reminisce the old days when Jake was stuck and Amy was confused. The episode also marks their first kiss.
S01E06, S02E04, S03E04, S05E04: "All the Halloween Heists"
If we had the time, we would have gone on and on about how iconic each Halloween heist was. From the beginning with Jake's eccentric, wacky and brilliant plans, to season five, where Jake proposed to Amy in the most adorable way ever, each Heist episode is something all the fans wait for with bated breath. And now, they have become a part of the nine, and our hearts forever.
Season 1, Episode 12: "The Pontiac Bandit."
There was once a Tumblr post that said, if Jake had seen Ocean's Eleven instead of Die Hard, he'd have turned into the Pontiac Bandit. Watching Jake's nemesis, and seeing how adorable the friendship remains between a cop and a thief wasn't something we thought we would enjoy, but we did.
Season 5, Episode 10: "Game Night"
A very moving episode, Season five, episode 12 explores Rosa's story, of her sexuality and of finally confronting and confessing to her parents about it. Though Rosa intends to lie to her parents at first. She brings along Jake to prove to her parents that she's heterosexual. The episode ends with her confessing, and her parent does not know how to react.
Season 1, Episode 13: "The Bet"
Another gem, this episode showcases the aftermath of Jake and Amy's ridiculous bet, to collar the most cases. Jake ends up winning by a few seconds and Amy, true to the terms of the bet, ends up going on the worst date ever with him. However, the date does turn out to be quite pleasant, and as Jake says, "This still goes into the good ones."
Season 5, Episode 20: "Show Me Going"
This episode turns out to be another one with the feels. Rosa Diaz turns out to be a police officer in service around an area with an active shooter situation, and everybody is tense and worried in the station. It is left to Captain Holt to take care of the squad, and in a rare display of maturity, Jake decides to put his faith in Diaz and stays back to comfort his co-workers. We won't lie. There were a lot of tears.
Season 5, Episode 20: "Jake and Amy"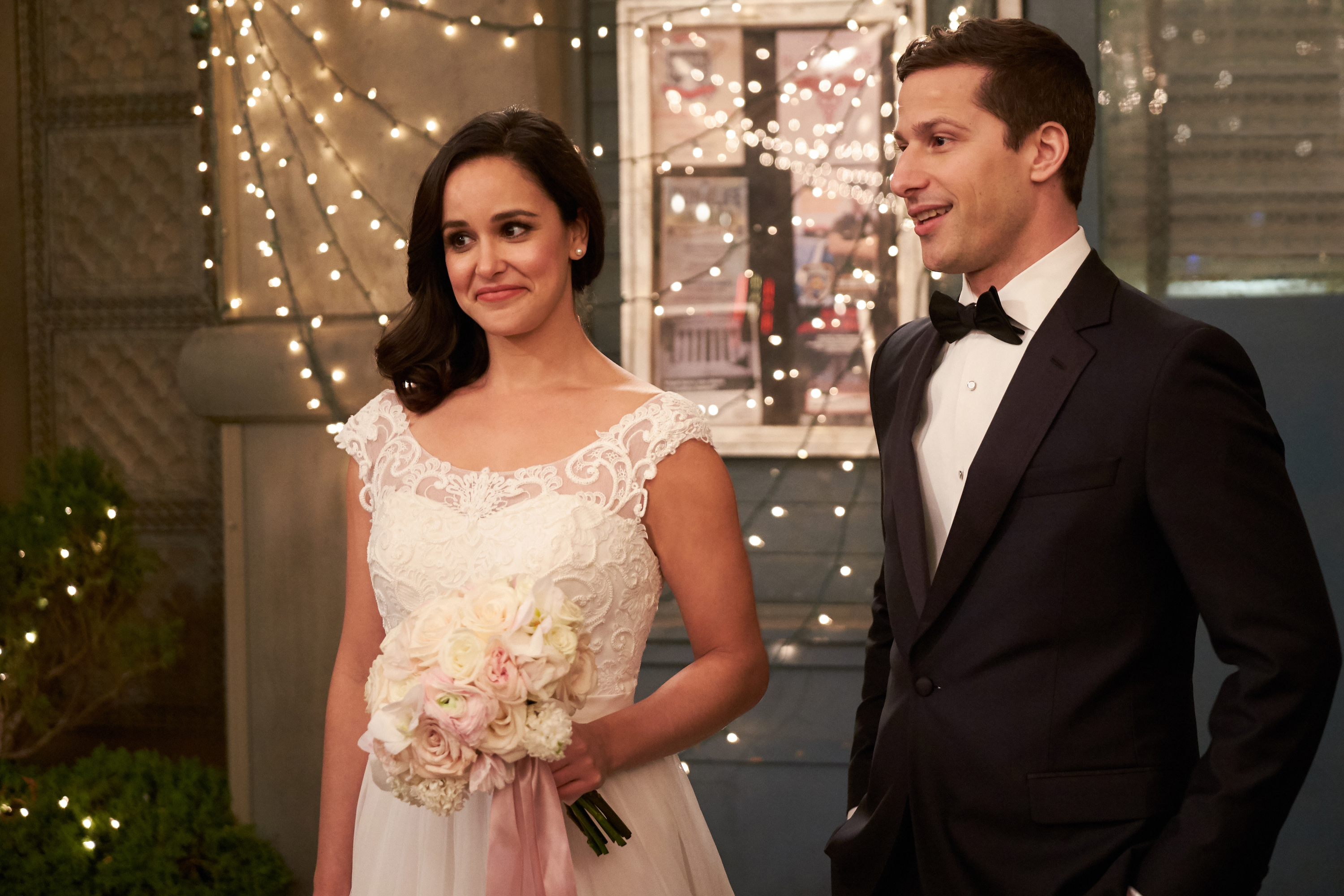 In what is arguably the most frustrating episode, Jake and Amy and everybody else at the precinct finds themselves trying to fix what is turning out to be the worst wedding till date. Dresses tearing off, rehearsals being interrupted, plans being botched, when all seems to set itself, the show pulls off the last plot twist: a bomb in the wedding venue. Everything turns out well, though, and you shall have to watch to find out.
Season 3, Episode 10: "Yippie Kayak"
Jake's dreams to be John McClane from "Die Hard" finally come to life, and he finds himself caught in a megastore with best friends Boyle and Gina. He is all ready to save everyone in the building single-handedly when everything goes awry, and Boyle ends up being the saviour, complete with khaki pants and a white vest. Except he gets John's iconic dialogue wrong and messes up.
Season 5, Episode 14: "The Box"
In what is arguably the best scene in the entire six-season series is when Jake monologues in time to bring down a dentist cum killer, played by actor Sterling K.Brown. While Jake isn't exactly right, he isn't exactly wrong either, and he ends up putting him behind bars. The episode is too much fun to be explained in word, and the only thing better would be to watch it.
Some honourable mentions are the "full bullpen", "The Backstreet Boys" cold opens. Well, that was our list of the best B99 episodes to rewatch this weekend. Comment below if you have any episodes to add!