"Orange is the new black" is Netflix original which first premiered on July 11, 2013, and is based on Piper Kerman's memoir, "Orange is the new black: my year in a women's prison".
It portrays her experiences in the FCI Danbury, a minimum-security federal prison. In February 2016, the series renewed for a fifth, sixth and seventh season. Furthermore, it was confirmed in October 2018 that the seventh season would be the last.
Likewise "Orange Is The New Black" is one of the most-watched series of Netflix in 2019. Furthermore, it shows the ugly sides as well as some beautiful phases of a prisoner's life.
Main Cast Members
– Taylor Schilling as Piper Chapman
– Laura Prepon as Alex Vause, inmate
– Michael Harney as Sam Healy, correctional officer
– Michelle Hurst as Miss Claudette Pelage, inmate
– Kate Mulgrew as Galina "Red" Reznikov, inmate
– Jason Biggs as Larry Bloom, Piper's fiancé
– Uzo Aduba as Suzanne "Crazy Eyes" Warren, inmate
– Danielle Brooks as Tasha "Taystee" Jefferson, inmate
– Natasha Lyonne as Nicky Nichols, inmate
– Taryn Manning as Tiffany "Pennsatucky" Doggett, inmate
– Selenis Leyva as Gloria Mendoza, inmate
– Adrienne C. Moore as Cindy "Black Cindy" Hayes, inmate
– Dascha Polanco as Dayanara "Daya" Diaz, inmate
– Nick Sandow as Joe Caputo, Captain of the Guard and later warden
– Yael Stone as Lorna Morello, inmate
– Samira Wiley as Poussey Washington, inmate
– Jackie Cruz as Marisol "Flaca" Gonzales, inmate
– Lea DeLaria as Carrie "Big Boo" Black, inmate
– Elizabeth Rodriguez as Aleida Diaz, a former inmate
– Jessica Pimentel as Maria Ruiz, inmate
– Laura Gómez as Blanca Flores, inmate
– Matt Peters as Joel Luschek, correctional officer
– Dale Soules as Frieda Berlin, inmate
– Alysia Reiner as Natalie "Fig" Figueroa, warden
What Is It About?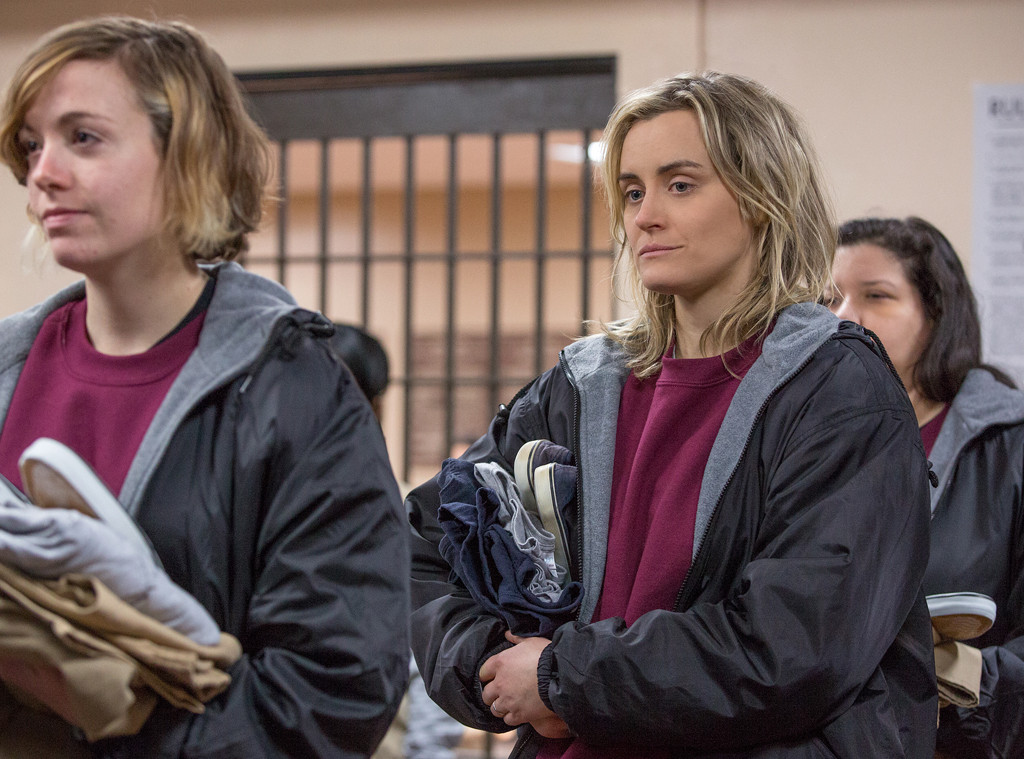 This series is based on actual events, the story of various women in prison, how they get treated, how they form "gangs". The series is a drama that talks about serious issues and lives of different people; life doesn't stop for anyone; neither does time; it just keeps going.
The show talks about how they are wasting the best years of their lives in a prison, and no one is to blame other than themselves. As a result, the comfort of our life can be snatched in a second due to something. Murder, torture, anger, conspiracy, love, compromise sums up this series into the beautiful yet ugly journey of a prisoner's life.